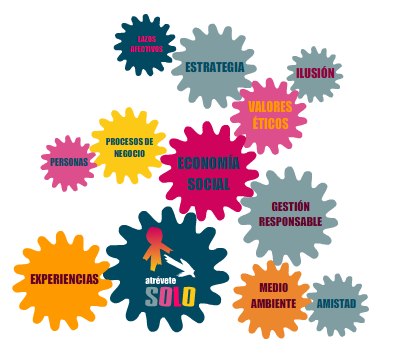 Atrévete Solo contributes actively and voluntarily to social improvement. Under foundations of our LeitMotiv and our Mission as a company, we add value to society. Our Corporate Social Responsibility goes beyond compliance with laws and regulations, taking for granted it's respect and strict compliance.
Under this management concept, Atrévete Solo encompasses a set of business management practices, strategies and systems that pursue a balance between the economic, social and environmental dimensions. We contribute to a social economy seeking excellence within the company and paying special attention to people, as well as to the quality of business processes.
Atrévete Solo voluntarily takes into consideration a set of actions so that their activities have a positive impact on society. Affirming the principles and values by which it is governed, both in their own methods and internal processes and in their relationship with other stakeholders.
It develops a conscious and consistent commitment to fully comply with the company's purpose, both internally and externally, considering the expectation of all its participants in economic, social or human environmental, demonstrating respect for ethical values, people, communities and the environment for the construction of a common good.
This responsible management of the company implies that it acts conciliating the interests of the business and the expectations that society has iof it (particularly stakeholders).
How does Atrévete Solo live CSR?
We are pleased to promote a social good, such as helping hundreds of people to increase their affective ties, with those with whom they share experiences through our concept. Some people come to live different trips or emotional events, others find a human affection that makes them return to forgotten illusions, rediscovered paths and a curious happiness in the bosom of friendship.
The greatest hope is given to su by the congratulations and thank you letters, from all those  people who once dared and came from a trip with expectations that were more than covered. Those people who establish networks of friendship with other darlings of their province, holding recurrent meetings. Even that Atrévete Solo people who have found something more than friendship.
Emotional phrases, smiles, expectation in the farewells of the trips. That is the main driver that makes us feel responsible, with a society in need of business initiatives, that encourage and provide social relationships.
We were born to have fun and to entertain those who come with us. We grew up with the illusion of those who rely on us repeatedly to break the daily monotony and open up new challenges and ubiquitous friendships. With each group that we have the privilege of knowing, we are filled with humanity and our need for fulfillment is satisfied.
For the people who have come to experience and open up to friendships. For those who came with the illusion of meeting someone special. For those who didn't go through their best and found here a breath of fresh air, an oxygen balloon to recharge energies and face day to day with emotions, experiences and surprising friendships.
For all the Atrévete Solo's that make up our community, more than 10.000 today.
You are the motor and the transcendental retribution that motivates us.