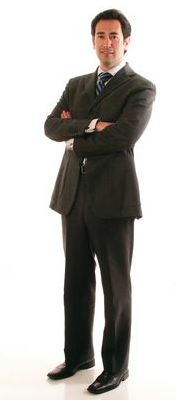 This question is so many times asked during the trips, so we decided to tell you here about it.
In the summer of 2006, Ángel Osuna was in a meeting for a rural accommodation network (a client of Prodigia Consultores). After the meeting, at lunch, the manager asks what they can to to have a bigger occupation. Ángel proposes to focus on the single market, organizing weekends of rural tourism for singles that are unknown to each other, where they can share rooms and activities. The company likes this idea, but finally the manager changed his organization and didn't implant this.
Ángel returns to Pordiiga with a 2-hour drive and thinks of the free idea he has given them. remember that your family had a rural accomodation with a capacity for 23 people, which has recently been commercialized and that your mother would like to have a greater occupation. Then, it occurred to him that it would be an interesting adventure to focus on Cortijo Las Rosas on the single market, creating a brand on this concept. Upon his return, Ángel meets the team of Prodigia and proposes a brain storming. The project is fascinating and the creatives begin to contribute ideas. Among all, that same afternoon the brand was defined as: "It should be something that encourages participation, that encourages to overcome the uncertainty of not knowing anyone, something for daring people…. dare…. dare alone (= Atrévete Solo in Spanish)." With that phrase the promoter of the idea "gave birth" to the brand.
The name, the creatives gave them inspiration and the next hey they had sketches for the logo. A corporate identity manual was developed with the current logo: fresh, with vivid colors that denote joy and fun, with tints of freshness and nature, youth and energy, for cool & fresh people.
We already have a brand for a real social network (not virtual), but that doesn't have any single member yet. How do we make people registered? Sinde ti is a prerequisite for it to be interesting to new users. 3 more teammates had joined Prodigia team, so Ángel decided to do an outdoor event, at the same time as a guerrilla marketing campaign. The objective of guerrilla marketing (camouflaged actions of marketing on the streets) was to press this idea to the market. In this way we could see if this idea was attractive and we could colet the data of several hundred users in order to kick-start the website.
On 8 september 2006, the entire team of Prodigia went to a fair in Lucena (Cordoba city). This fair is located in the center of the municipality, in which several streets are covered with awnings and bars who are mounted for drinks and tapas. The atmosphere is very particular and festive. In Lucena they don't know Prodigia. So, 15 people (members of Prodigia and some friends who want to participate in guerrilla marketing) are at 14:00 at the fair in Lucena: drinking beers and wine at the street, eating the typical flamenquines from Cordoba, blood sausage, loin, roasted peppers and chorizo. Surrounded by the crowd, suddenly they begin with naturalness to unbutton their shirts, some remove their ties, calmly and slowly: the 15 (boys and girls) are left bare-chested, diverting the attention of the people around to such a surreal situation. Once all are undressed from the waist up (the girls in bra) open a suitcase and take out some daring black shirts with bright colors and put them on. Then, they take their wine glasses and continue with normality, talking, drinking and tapas. Except that each one has put a volume of shirts hanging on the left arm.
People around them couldn't avoid curiosity and come to ask, "Hey, who are you? What is this? What is that on the shirts "Atrévete Solo? What do you have to dare?". More and more people approach the group with the 15 striking t-shirts asking similar questions. The 15 characters, indifferent, answer them: "We can't tell you who we are, or what this is about. The only thing we say is that if you dare to have my partners take off your clothes and put on our shirts. We'll give them to you." Both boys and girls came to us to wear the shirts. At the end of an hour, there were 200 people at the fair with their shirts on, whole gangs dressed as Atrévete Solo. People passed by and stopped: "Hey, that Atrévete Solo, I saw a few people with a shirt?" "I know, there are some people that if you let them take you your shirt put out, they put you the Atrevete Solo shirt on. But they don't give a pledge of what this is about.
During the day and night, the shirts didn't stop circulating around the fair. On the front of the t-shirts there was written "I DARE" plus our logo. At the back of the t-shirt was drawn the logo and www.atrevetesolo.com
To all the people who were given the shirt, they were asked to fill in a small form they signed, providing their basic personal information and accepting the legal notice of the data protection law, to use their data in order to inform them about Atrévete Solo. in this way, the first users of the portal were captured before being open to the public. The next day, hundreds of people entered the website, where the logo appeared and a phrase: "return on 15 september and you will discover if you dare".
On 14 september, the same event was repeated at the fair Priego in Cordoba, another beautiful Cordoban town. This time at the fairground, at night. The same was done inside the booths: when the prodigy boys and girls undressed and put on their shirts, nobody was indifferent. After a few minutes: dj's, cashiers, waiters and many more people were daring, not knowing yet of what happened.
On the 15th, the site that the creatives had designed the previous months, was launched. Hundreds of users had previously registered in the forms and the acceptance and expectation was very positive. In Cordoba it is usual to go on the weekends to the farmhouse of a friend who has a perol. The food contains rice with chorizo and loin meet, similar to paella but with meat instead of fish. Perol is the name of the container in which the rice is cooked. Going to perol is like going to eat with your friends the therefore mentioned food, drinking good beers and join a good atmosphere.
Well, on the website it was said: We propose you a copper from Cordoba and we also put you friends. The idea was to set and create expectations, we had a lot of fun and the database kept growing. But the single people told us that they also wanted to travel to other countries, make cruises. So we were thinking: we don't have any boats, or planes. But if the Atrevetes want to travel, it is a necessity that we must satisfy.
Prodigia had a client who was a travel wholesaler. As soon as we told him our idea, the was very excited about providing all the trips and information that was necessary. This was the pilot test of the first Mediterranean cruise, which was attended by 19 people. The result was satisfactory and the singles had a great time. From there, the travel portfolio was expanding and growing, making more trips than multi adventure weekends.
At the end of 2007 they began to call us asking to organize a New Year's Party. At that time, Ángel was very excited about this project, because it answered calls from clients who proposed or suggested new ideas. It attended to more than dozen of people who insisted they didn't want to be alone on New Year's Eve for different reasons, most of them were emotional.
Effectively, Prodigia didn't have that know how, but it did have the know who. He had several clients that were or had discotheques, restaurants and hotels. So, the first New Year's Eve Atrevete Solo party was organized in ust two weeks. 30 people came: the ones who had called us and some more. The party was like the one you would have with your friends: the daring ones came to play the music at times; the gala dinner; a 4-star hotel; the cozy atmosphere, the first speed dating. Everything motivated us for the following year, in which the attendance tripled, as well as tripling again in the later one.
Everytime we left, were were more and more excited about the project. Devoting more resources, hiring more staff and thus constituting the one Ángel calls our hobby company: Atrévete Solo, S.A. There is a second parallel reason, which has a lot to do with Ángel's personal motivation to be focussed on this project.
Ángel founded his first company in 2000. During the first five years, he didn't had any vacations: he worked from monday to sunday and was trained in Business Management. Ángel had hardly ever traveled, nor did he know other countries. He had dedicated himself to studying his career, some postgraduate degrees and to raise from 0 his first company. Although, all the companions had their month of vacations, but Ángel had never taken one. He was ashamed to leave work, but after five years he went two weeks to Havana. After reading a book that was given by a good friend and companion of a master: "Déjame que te cuente" by Jorge Bucay. The tale made him elucidate that he needed to sharpen the ax.
When Ángel thought of Atrévete Solo as a company, in addition to the original fund and activity, he designed a tailored suit. "Since I'm so stupid, I'm embarrassed to go on vacation. I'm going to invent a company to work traveling and see the world, because I'm a single too." Thus, Ángel has for years been meeting many interesting people, traveling around the world and satisfying his curiosity and need to open his mind.
Today, he still remembers that he only had 2 real weeks of rest in hs first 10 working years. Although, he says that he has the privilege of enjoying a weekend of 7 days and a vacation of 365 days a year, thanks to his hobby which is his company, Atrévete Solo.
We hope you like the history of the origin of this company.
For all of us who are part of Atrévete Solo, there is more passion than work in this project. Thanks for reading!