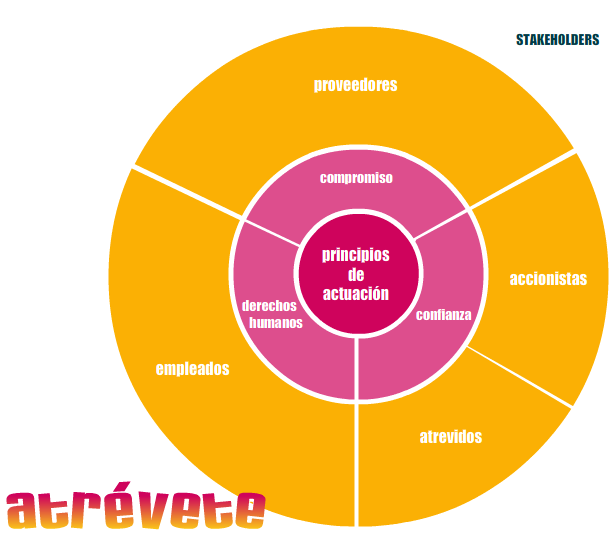 Mission, Vision and Values
Atrévete Solo offers the market to satisfy their needs related to socialization through leisure. It develops leisure activities for single people so that through the interaction between different clients, they can establish social relationships. It is therefore that the mission of Atrévete Solo contributes to a more happy world, concretely facilitating the social relations between people. Especially among those who want to expand their circles of social relationship, so that they participate in a happier world. We create friends.
Atrévete Solo was born in 2006 with the intention of constituting a reference in the sector (top of mind positioning); with a strong spirit of leadership. That is why we define our vision as: Consolidate as the online leisure company for singles in Spain and develop our concept with an international character.
Atrévete Solo is developing and has the firm desire to exercise it's activity based on a solid network of Values that will mark the character and activity of the company. These values will always be present at any stage of the projects (developed by our company) or in any type of relationship between the company and their clients and employees.
The values that base our way of being, are:
Leadership spirit: Our company develops the culture of leadership with all its workers, as well as with its customers and suppliers. We making them participants in collaborating with our company, with the greatest market projection.

Responsibility: Atrévete Solo keeps in mind that many people trust their moments of leisure, their vacations or the company. Therefore, we must bear in mind the responsibility that implies managing those moments on which our clients trust their expectations

Responsible communication: Atrévete Solo is committed to making a responsible communication. Faithful to the products offered, that does not cause expectations beyond what we can offer.

Confidentiality: The confidentiality of our clients' personal data will be much higher than the data protection laws that regulate the storage of information. For Atrévete Solo is confidentiality more than compliance with a law. It is a commitment to the client: no information will be provided about people who have attended or are going to attend some of our activities. None of their data will be known unless they express otherwise.

Good worker-company relationships: Atrévete Solo commits to dispense a treatment to its workers, based on equal opportunities as worth, recognition of merits, reconciliation of personal and work life. The work environment must reflect professionalism, but at the same time it must convey to any client that it is the ideal place to hire a vacation.

Kaizen. It is always possible to improve, therefore Atrévete Solo must be continually concerned to excel in all those areas where possible: portfolio of products, customer services, hiring processes. With the aim of increasing the perceived quality of services of the company.

Care of the brand. Atrévete Solo is aware that the brand is the main asset of the company. Therefore, it is established as an universal value for the company to take care of the brand. Both managers and workers must ensure the health of it and transmit our concept to customers and suppliers